Home
Character Designs
Model Sheets
Storyboards
Background Designs
Animated Drawings
Animated Comics

My Portfolio
Links
TZ Forums



Welcome to the DC Animated Archives! This website is devoted to all the behind-the-scenes work made on Superman, Batman, Batman Beyond and Bruce Timm's latest show, the Justice League. The purpose of my site is to showcase the amazing talents behind your favorite WB shows, including character and background designers, storyboard artists and animators.



---
July 2005
BIG Update! I promised you some new Kelsey Shannon goodness, well it's up now! Check it out in the Batman Comics Section. In other news I made a lot of additions to my portfolio as well, including a new Batman 3-page comic. Stay tuned for more updates coming this september!


Enjoy!



Proud member of



This site is best viewed with IE at 1024x768 or above. It is NOT compatible with Netscape 2.0 or 3.0.
Special Thanks to Ronnie del Carmen, Ty Templeton, Mike Manley, Craig Rousseau, Shane Glines, Paul Rivoche, Min S Ku, Jim Harvey, Eileen (Harl).
Batman and all related characters, names, and indicia are ©2002 DC Comics and are used WITHOUT permission.
All rights reserved. This webpage is ©2002, Romain Ronzeau and may not be used or replicated by any means without permission.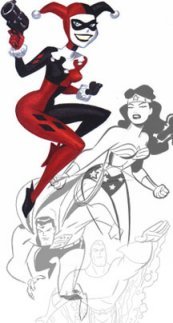 NEW EMAIL ADDRESS :
ronzeaur@msn.com
(if you have written to the old ifrance address in the past few months, please send me again your email to this new address)