Home
Character Designs
Model Sheets
Storyboards

Background Designs
Animated Drawings
Animated Comics

My Portfolio
Links

TZ Forums
BATMAN
by Ronnie del Carmen

First sequence --from Shadow Of The Bat:
Second sequence --from Riddler's Reform: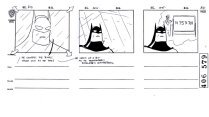 Third sequence --from Batman: Mask of the Phantasm:
Fourth sequence --from a McDonald's promo that never got made: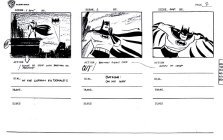 Fifth sequence --from Birds of a Feather: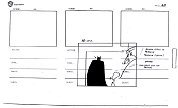 Sixth sequence --from Terrible Trio:


Seventh sequence --from Baby Doll: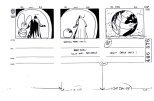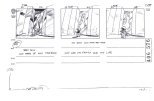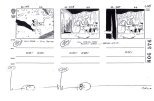 And that's it for Ronnie's boards for now. Hope you enjoyed the show! Hopefully we'll get new storyboard artists to contribute, or even Ronnie to dig up some other old great stuff!
Information:
© 2002 WARNER BROS Do not use these pages without permission

The first two panels are from Ronnie's storyboards on 'Birds of a Feather' .

Ronnie: "The Tigrus image (From Tyger Tyger) was not in the show but just an encounter that I was hoping to get to--without the comical word balloon, of course."

New!! Ronnie's last storyboard sequence, and this one is from 'Baby Doll'.


If you're a passionate Batman fan, you've probably heard of Ronnie, whose storyboards on Batman are among the most fabulous Batman art ever done. He also did a great Harley & Ivy story for the critically-acclaimed Batman 'Holiday Special'. After working for Dreamworks on their most famous feature films, he has now joined the Pixar crew.